Issue Ten: December 2003
'And what are you expecting little boy since you've been so naughty this year?'
Who's Bad?

Who's been a bad boy again? Santa certainly won't be bringing you any presents this Christmas Jacko - except maybe a stretch of 8 years free bed and board courtesy of the United States prison authorises!
Man Claims He's the "Real" Superman
Carlos Andreas, has made amazing claims that he is in fact the "real superman". We questioned the man once his minders had checked us for Kryptonite. Well Superman can't be too careful can he? 'So you're the real Superman,' we asked him. 'For sure I am Superman, do you not see the outfit?' Sure enough he was wearing the outfit normally associated with Superman. 'And do you use a telephone kiosk like the superhero does?' 'What to urinate?' he replied. 'No Superman gets changed in a telephone kiosk,' we stated. 'Oh ... No I don't do that, I usually urinate in a telephone kiosk.' That's where we had him, the real Superman would never urinate in a telephone kiosk, Superman is a decent and law-abiding, upstanding citizen. This guy is obviously a fake!
Do you know what your child is up to?
Kelly never does her homework, plays truant frequently, smokes, drinks, takes drugs, regularly has sex with lots of different boys, became pregnant at twelve and is about to run away with her teacher who is ten years her senior.
Wish I'd had such a ball when I was her age!
The UK's number one news site called Bananas!
Merry Christmas
War is Over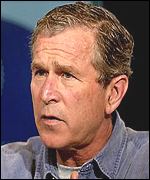 Mr Bush would like to wish everyone a merry Christmas - Mr Bush would like to wish everyone a merry Christmas, but he just can't help himself bombing a large, virtually defenceless country instead (if there's any left!)
David Blaine Makes Himself Disappear
Has anyone seen magician and publicity seeker extraordinaire David Blaine since he came out of his box? Is he alive, is he dead? Is he busy dreaming up his next stunt? Perhaps we could stick him at the top of a large Christmas tree over Christmas - he'd make a weird fairy! It seems like the magician famous for making things disappear has made himself disappear!
Showbiz news
Britney's Tears
In a recently interview pop princess Britney Spears shed tears when her ex, Justin Timberlake, was mentioned. We are amazed at no one present had the commercial enterprise to collect the tears with a dropper and flog them. Each drop could have fetched a fortune. Imagine owning actual Britney tears! Wow!
Atomic Kitten Not to Split Shock
Here at Bananas we are saddened to hear that pop band Atomic Kitten are not to split despite rumours that Natasha was to leave the band. This could mean more dreadful Blondie covers from the girls!
Interesting facts about Atomic Kitten
None of the members of the band are atomic, and none of them are kittens.
Jenny Frost was once snapped topless - and very nice too!
Jenny Frost was once snapped topless - and very nice too!
Jenny Frost was once snapped topless - and very nice too!
Click
here
for headline stories from previous issues
BANANAS

Lifting the lid on all the latest news!
Email:
If you've laughed at least once at this site, please click on the funny.co.uk link below to vote for me and send me up their comedy chart!


Also listed at:
Trivio.co.uk - Humor Directory and Search Engine.
Humor directory and search engine
and at:
Infrequently frequent!
Win! Win! Win!
Win something to help you pull with at Christmas, yes - rope!
Yes, for every lucky winner of Bananas Bingo this issue, a three yards length of old rope - a million uses!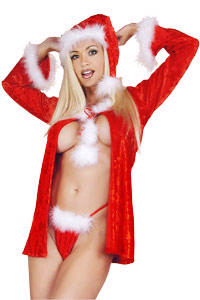 Phwoar! I wouldn't mind pulling her this Christmas! And I'd find a use for the rope with her too!
Issue Ten
December 2003
Contents
It's Christmas - So What?
Christmas - who gives a flying one? W'ell gobble the turkey - and hopefull that bird I fancy will gobble my nob! By the way kids - Santa doesn't exist!
The Blaine Truth
David Blaine master illusionist or idiot? We find out as we interview the attention seeking mad-gician (geddit?)
Christmas Tips and Hints
Planning a Christmas get-together with your folks? forget it! You'd be happier pullling your own skin off!
Dr Mal's Probe
This month Dr Mal probes transvestites - and we don't mean he gooses a fag!
... and why not visit our Bananas archive - all the events that were making the news yesterday (a bit like The Sun really!)